Georgia Southern standout Adrian Peterson passed away on Tuesday following his battle with brain cancer.
He made the announcement on social media Tuesday.
"#Ajsoars is in Heaven, where he belongs…#ajsoars #P3 #MyFirstSuperHero," Peterson posted on his Facebook page Tuesday morning.
He was diagnosed in June 2014, when he was just 6 years old.
The Peterson family received an outpouring of support through social media, as they publicly documented the young boy's heath struggles.
Since leaving the NFL, Adrian Peterson has devoted his life to helping others. The Adrian Peterson Foundation is a nonprofit foundation that helps needy children.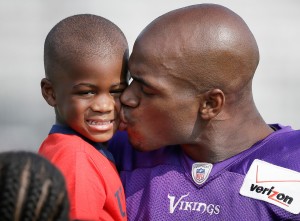 The internet community returned the favor, raising more than $40,000 for A.J.'s medical expenses in just the past 7 months.
In February 2015, AJ was named an honorary officer with the Round Lake Police Department in a ceremony with Round Lake police and Make-A-Wish.
Peterson was a star running back for Georgia Southern from 1998-2001, and played for the Chicago Bears from 2002-2009. Peterson also had brief stints with the Minnesota Vikings and the Virginia Destroyers.
Source: http://www.wsbtv.com/news/news/local/former-nfl-player-adrian-petersons-son-dies-after-/nkC8p/