The scene was something millions of sports fans thought would never happen: Floyd Mayweather Jr. and Manny Pacquiao, the two best fighters in the world and boxing's two biggest stars, standing face to face, just the two of them, alone on a stage to finally announce the big fight — one of the biggest ever.
The long-awaited moment played out Wednesday afternoon at the Nokia Theatre in downtown Los Angeles where, following red-carpet arrivals that made this look more like a Hollywood awards show than a boxing news conference, the fighters were introduced to more than 700 credentialed media members.
That is a gigantic number for a boxing news conference. But, then again, this was not a normal boxing news conference. And it is the only joint news conference Mayweather and Pacquiao will hold to hype the fight until fight week. Then, a few days later, they will square off to unify their welterweight world titles, determine pound-for-pound supremacy and crown the king of their era on May 2 (Showtime PPV/HBO PPV) at the MGM Grand in Las Vegas.
With less than eight weeks to go until the fight, this is usually Mayweather's time to get to work in cutting down the psyche of his opponent. Often his rivals are beaten before they step into the ring, destroyed mentally by a bombardment of taunts and jibes.
It happened with Robert Guerrero, Ricky Hatton, Victor Ortiz and countless others on Mayweather's way to a 47-0 record. Yet this time there is no long, national publicity drive to give Mayweather the daily chance to put doubt into his rival's mind.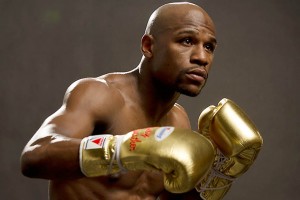 The fight was signed Feb. 20 after five years of frustration. With Mayweather set on the May 2 date there was no time for a grand global media tour – Wednesday's news conference, red-carpet appearance and media session at the Nokia Theater served as an all-in-one promotional extravaganza.